Corporate profile
Profile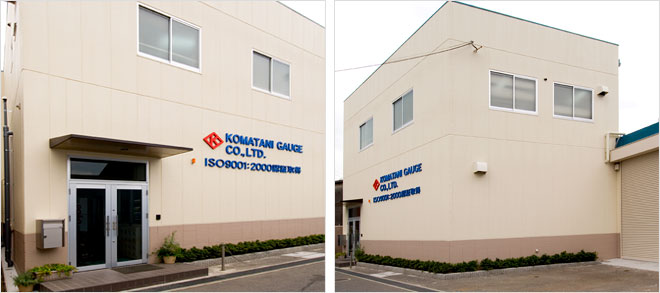 Trade name
Komatani Gauge Co., Ltd.
Founded
1956
Incorporation
1 May, 1988
Capital
10 million yen
Representative
Hisao Komatani, President
Business
Various limit gauges, measurement accuracy equipment, carbide gauges and jigs,
precision components
Head Office
Postcode577-0046
1-6-34, Nishi-Zutsumi Hondori-nishi, Higashi-Osaka-shi
TEL
06-6781-0975
FAX
06-6781-0974
Employees
30
Annual Revenue
400 million yen
Accounting period
Once a year, end of April
Banks dealt with
Kosaka Branch,  Mitsui Sumitomo Bank,
Higashi-Osaka Branch,  Kinki Osaka Bank,
Eiwa Branch,  Osaka Financial Trust,
Higashi-Osaka Branch,  Taisho Bank,
Central Higashi-Osaka Branch,  Senshu Ikeda Bank
HISTRY
Date
Details
May, 1956
Past President Yoshio Komatani forms Komatani Gauge as a private enterprise.
Begin production and sales of various limit gauges.
1966
New head office and factory built at 1-2-21 Takaida Motomachi, Higashi-Osaka City.
May, 1979
Komatani Gauge Production Facility newly started as a limited liability corporation.
May, 1988
Current President Hisao Komatani takes over business from past president Yoshio Komatani.
July, 1991
Second factory built at 1-4-18 Takaida Motomachi, Higashi-Osaka City.
November, 1999
Head Office and factory moved to 1-6-34 Nishizutsumi Hondori Nishi, Higashi-Osaka City.
April, 2002
Recognized as ISO9001:2001 compliant.
April, 2004
Company name changed to Komatani Gauge Co., Ltd.
February, 2006
Head office expanded.
July 2012
acquired JCSS.
April 2013
incorporated 100% owned subsidiary company named KOMATANI GAUGE(THAILAND)CO., LTD in Thailand.
ACCESS
ADDRESS
Postcode577-0046
1-6-34, Nishi-Zutsumi Hondori-nishi, Higashi-Osaka-shi
TEL
06-6781-0975
FAX
06-6781-0974